The FIU opens a student-run art gallery in Miami Beach | FIU news
Some artists spend their entire careers looking for a gallery to represent them and show their work. And when they finally achieve this seemingly impossible goal, it can often be anything but smooth sailing – especially with no prior gallery experience to guide them.
But in a move that could potentially change the lives of the FIU's emerging artists, the College of Communication, Architecture + The Arts (CARTA), with support from the Berkowitz Contemporary Foundation, opened a student-run art gallery in Miami Beach.
The gallery in the heart of South Beach, just two blocks from Miami's most anticipated and largest art fair, Art Basel, was officially opened to the public on Tuesday, May 25th, with the inaugural exhibition, Emergence: The process.
The exhibition showed a diverse mix of contemporary art by six doctoral students from the Department of Art + Art History and Berkowitz scholars.
Berkowitz Scholars from left to right: John Colon, Emma Ortiz, Claudia Newman, Diego Waisman, Elizabeth Pino, Brandi Long
"CARTA's student-centric mission is to develop and maintain high quality, inclusive experiential learning opportunities that prepare students for meaningful careers," said Brian Schriner, Dean of CARTA. "This includes creating opportunities for students to collaborate with other students, faculty, communities and employers while learning by doing.
"Our opening of a student-run visual art gallery in Miami Beach gives our visual arts students the ultimate opportunity to create, display, curate, and even sell their artwork."
And they sold it! On the first night of the gallery's opening, artist and current Master of Fine Arts in visual arts student Elizabeth Pino sold her first painting – the ship.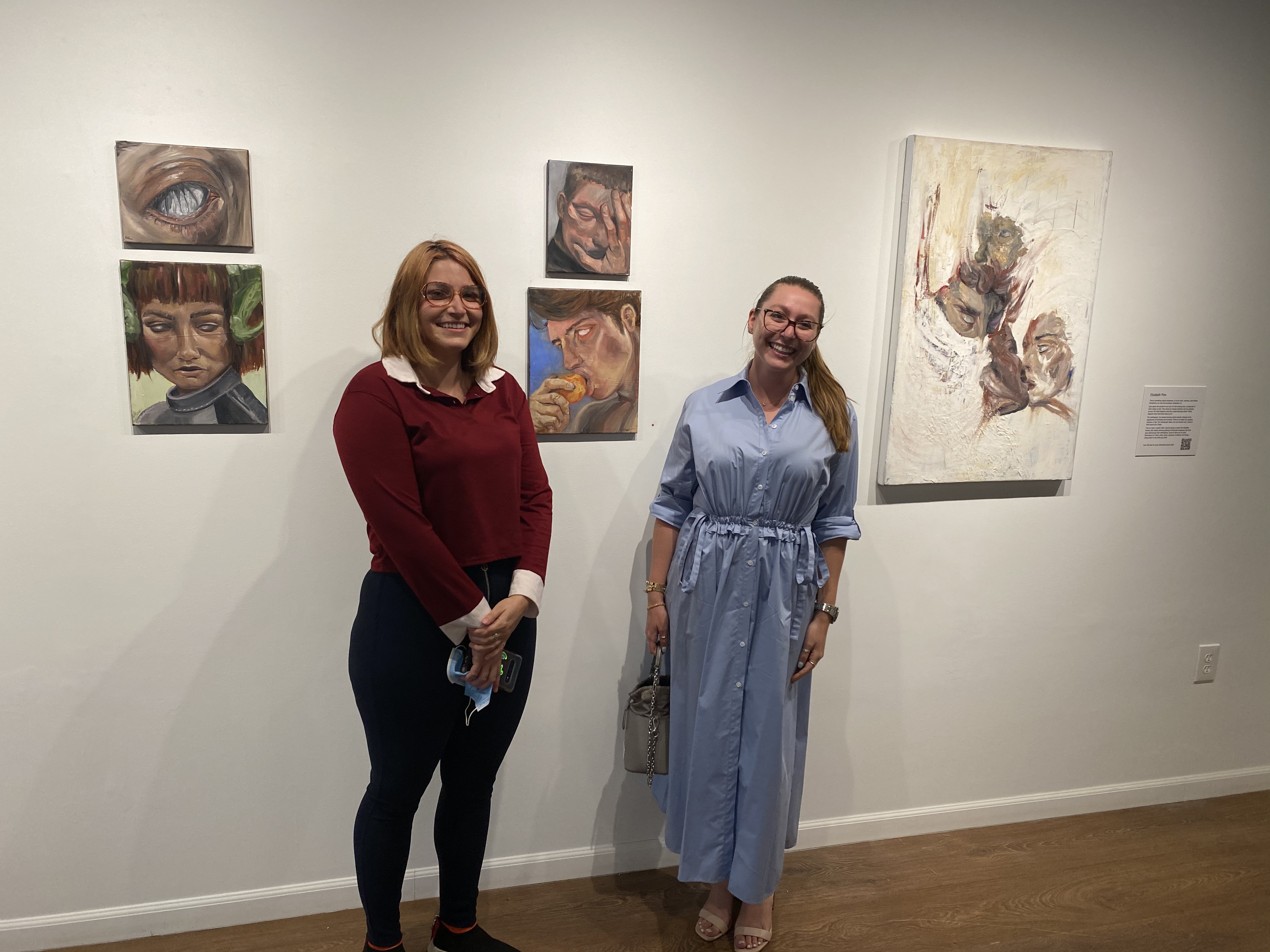 Elizabeth Pino with Chloe Berkowitz, President of the Berkowitz Contemporary Foundation, and sold paintings, ship (bottom right)
"It's such a privilege to have a space to show off your work as an artist and it isn't easy to get hold of," said Pino. "I think this art gallery will be a great opportunity for art students because we're going to learn so much that we can't learn in class."
The vision for the gallery arose from the desire of Chloe Berkowitz, President of the Schriner and Berkowitz Contemporary Foundation, to give art students the opportunity to experience the business side of the art world.
"There was a very important conversation with the dean about bridging the gap between artists and artists in the workforce," said Berkowitz. "We spend all the time teaching them how to improve their craft, but nobody teaches them how to read a contract, how to properly hang a painting, or how to take tax write-offs on their supplies. There are so many things that make a successful artist, so this program is a really nice and important transition for these students to become artists in the workforce. "
Aside from day-to-day business matters, students will immerse themselves in working with visitors, fellow artists, collectors and publishers in a series of ongoing seminars.
"This opportunity is a turning point for the FIU and for these students," said David Chang, gallery curator and chair of the Art + Art History Department. "This is the FIU's first storefront gallery and its location is critical to the success of the program."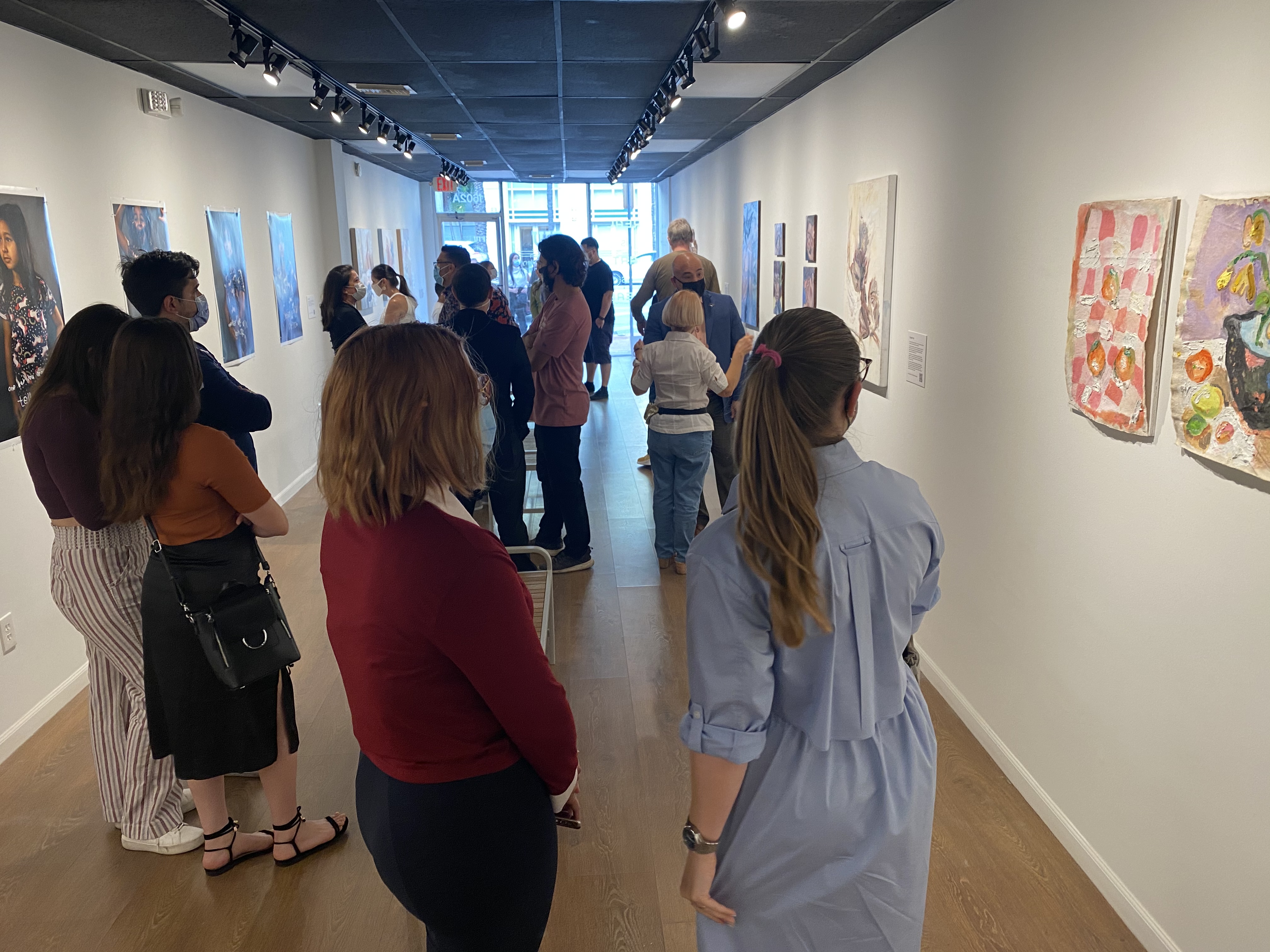 According to Chang, the gallery's prime location is already attracting a ton of pedestrians, including collectors and other artists, giving students direct access and interaction with other design professionals in the area.
The Miami Beach Visual Arts Gallery is free and open to the public Wednesdays through Fridays from 2 p.m. to 7 p.m. and Saturdays from 11 a.m. to 4 p.m. The opening exhibition can be seen until July 1st.
Learn more about the Miami Beach Visual Arts Gallery.